Activating NCache
NCache has three different editions available NCache Open Source, NCache Professional and NCache Enterprise.
NCache Open Source is released under Apache License, Version 2.0. NCache is also available in full working Trial versions of NCache Professional and NCache Enterprise for initial 60 days use.
However, it is required to activate NCache after the evaluation period is expired using a purchased license key. License keys are issued by our Sales department on purchasing NCache.
There are two methods available for activating NCache, online activation and Manual activation.
Online Activation
Go to "Start", "All Programs", "NCache", "Activate NCache". Right Click on "Activate NCache Tool" and select "Run as administrator".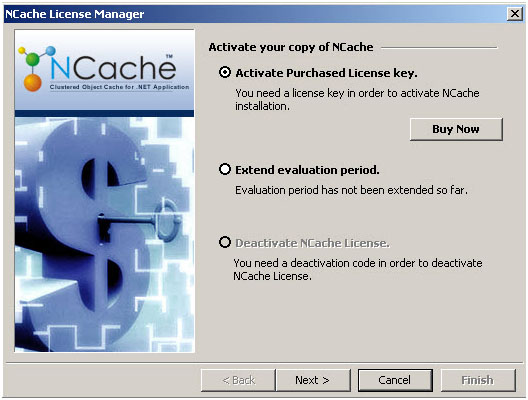 Click on the "Activate purchased copy of NCache" and press the Next button. You'll see the following screen.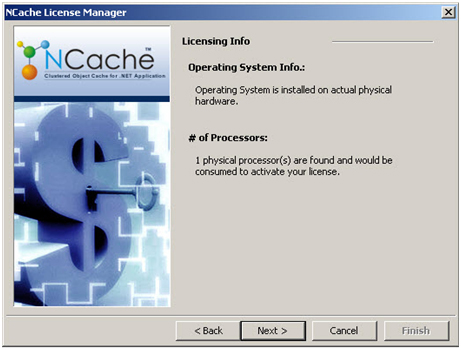 Please note that if you have installed Enterprise Edition of NCache, you'll only get the "Production License" option here. Similarly, if you have installed Developer Edition, you'll get the "Developer License" option. Just click Next button and you'll see the following screen.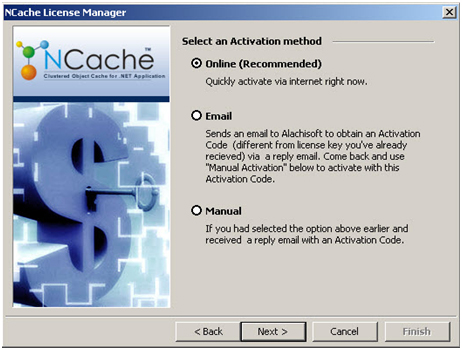 Here you get three different options to choose from. If your computer has Internet access, just select the Online (Recommended) option. It will ask you to enter a license key and will activate NCache license for you immediately.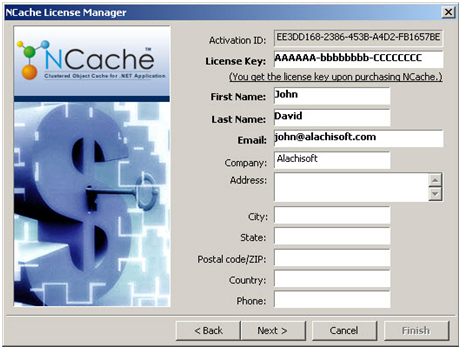 When you click Next button, you see the final screen for activating your license.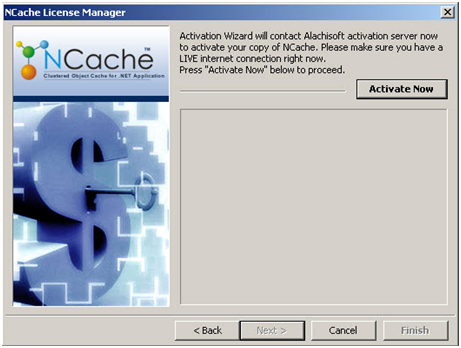 Just press Activate Now and it will activate NCache license for you immediately.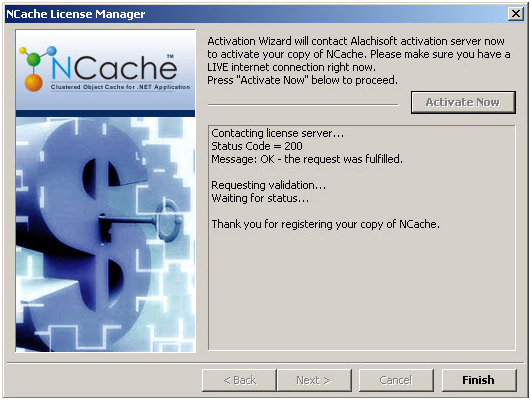 If for some reason you're unable to activate, it will display an error message. Your license activation can fail for a number of reasons as following:
Your firewall does not allow HTTP POST from Activation Program to the Alachisoft License Server.
You do not have Internet access
Your license key is invalid
You have already used up the purchased CPUs or nodes. If this happens, then please review your NCache license usage and then contact Alachisoft Sales.
NCache Email and Manual Activation
However, if your computer does not have Internet access (which is the case in many production servers behind the firewall), then select Email option and click Next to see the screen below.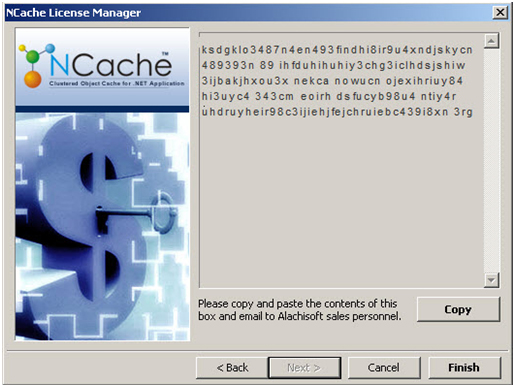 The screen above shows a long encrypted text. First of all, click on Copy button to copy this text to the clipboard. Then, you can paste this in an email and send that email to Alachisoft Support (support@alachisoft.com). This is actually an Activation Request Code that you need to obtain an Activation Auth Code. Or, you can directly visit the following URL to obtain this yourself:
https://www.alachisoft.com/admin/ncache/console/emailact.php
Paste the Activate Request Code into the text box on the following page and then press Verify.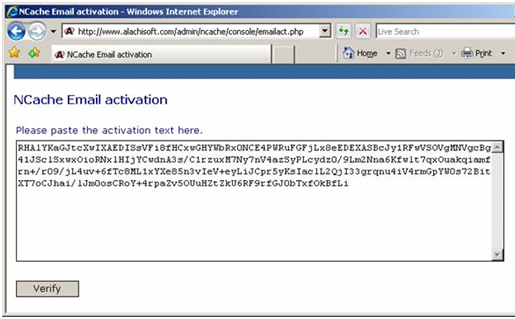 You will see the following page: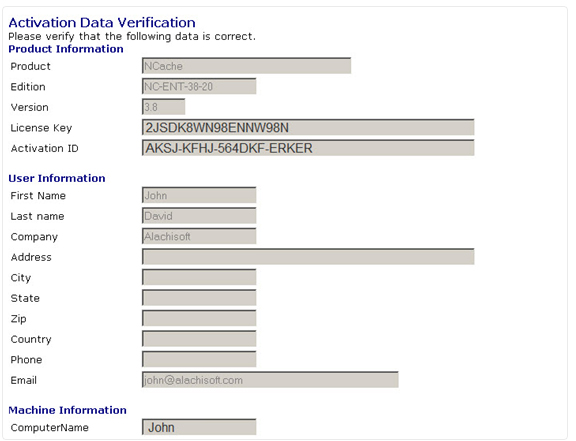 On the above page (not visible in the screenshot due to scrolling), there is an Activate button at the bottom of the page. When you click this button, it will display a page with the Activate Auth Code on the following page: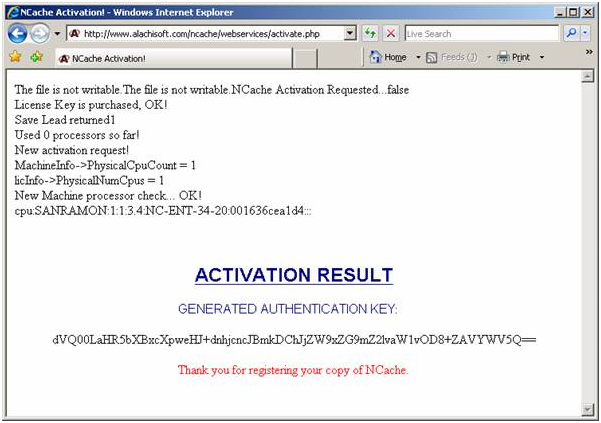 Take the above Activation Auth Code (shown as a long encrypted string toward the end of the page right above the red color message) and copy it to your clipboard. Then, go back to Activate NCache License program and select Manual activation option.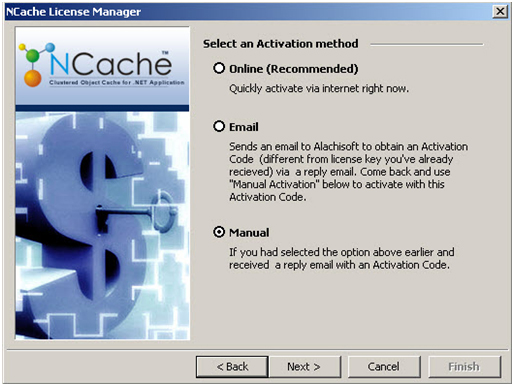 You'll see the following screen: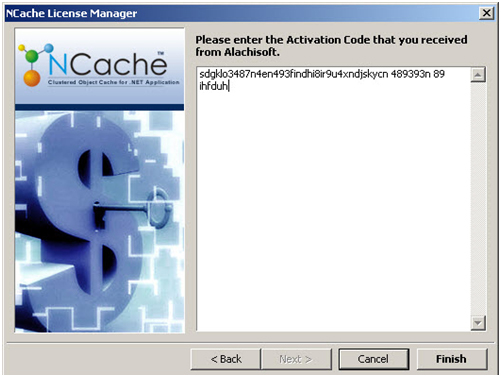 Just paste the Activation Code here and press Finish button. NCache will be activated on your machine and following screen will be prompted.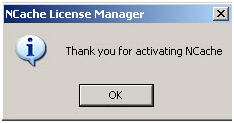 What to Do Next?