Configure Event Logging
NCache web manager lets you control the maximum number of event logs to be displayed. Moreover, you can also control the event sources i.e. the sources that you want to monitor.
Follow the steps below in order to configure event logging:
Launch NCache Web Manager by browsing to http://localhost:8251 (Windows) or <server-ip>:8251 (Windows + Linux).

On the top right of the page, click on the button. It opens up a new page displaying various cache settings.

From the left tree, select the monitor settings. Go to the Event Logs section. Update the maximum number of logs in according to your requirement or select Use Default for default values.

Add the event sources to be monitored in the text box against the Event Sources textbox and click on Add.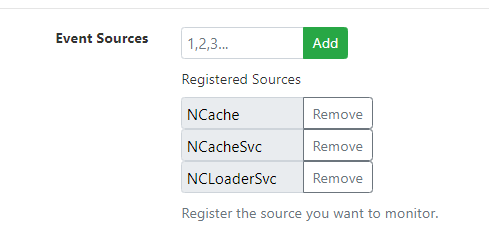 After making the desired changes, click on Apply in order to apply the settings. You will recieve a success message on the screen on successful application of settings.
See Also
Configure API Logging
Monitor Cache Clusters using NCache Email Alerts
Email Notifications on NCache Events
Monitor NCache using Windows PerfMon Tool