Exit Maintenance Mode
You can exit maintenance mode for a cluster through the following steps:
Using NCache Web Manager
Launch NCache Web Manager by browsing to http://localhost:8251 (Windows) or <server-ip>:8251 (Windows + Linux).

In the left navigation bar, click on Clustered Caches or Local Caches, based on the cache to be configured.

Check the box against the cache on which maintenance mode needs to be exited.

Click on "..." against the cache and select Exit Maintenance Mode.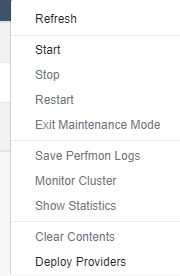 The clustered cache will exit Maintenance Mode.
See Also