Stop Node for Maintenance
To stop a server node for maintenance:
Using NCache Web Manager
Launch NCache Web Manager by browsing to http://localhost:8251 (Windows) or <server-ip>:8251 (Windows + Linux).

In the left navigation bar, click on Clustered Caches. Against the cache name, click on View Details.
This opens up the detailed configuration page for the cache.

Under Server Nodes tab, check the box against the server node IP.

Click on "..." against the server IP and select Stop for Maintenance.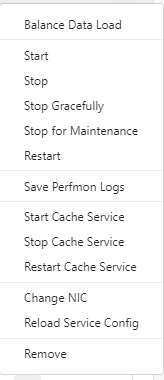 The node status will change from Running to Stopped.
Important
No other node on the same clustered cache can be stopped during Maintenance Mode. If you attempt to do so, it will give you an error saying Cluster is already under maintenance.
See Also