Synchronize Bridge Caches
State transfer is a process in which you can synchronize the state of the source cache with the target cache via the bridge. The main benefit of this process is to make sure the target cache in this bridge is resynchronized with the source cache.
You can execute state transfer any time after bridge starts to synchronize the selected caches.
Important
This option is provided for the caches connected to bridge.
Launch NCache Web Manager by browsing to http://localhost:8251 or <server-ip>:8251 on Windows and Linux.

In the left navigation bar, click on Bridge. It will open up a list of pre-existing bridges. From the list select the bridge name and go to View Details.

On the page opened with details, go to the Bridge Caches section and click on the button.

Specify the source and target caches for state transfer and click on Start.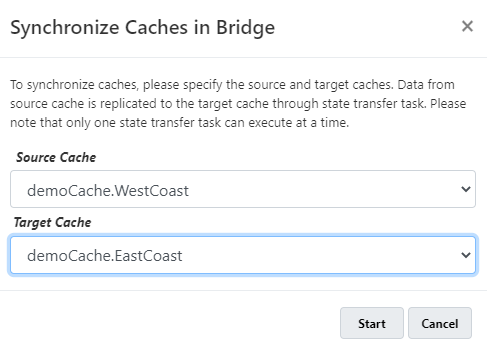 You will be notified that state transfer has been initiated.
See Also
Create Bridge
Configure Bridge Settings
Configure Conflict Resolver
Remove Cache from Bridge