Enable Client Cache on Client Nodes
If a client cache is already created but currently disabled, you can enable this client cache at any time.
Using NCache Web Manager
Launch NCache Web Manager by browsing to http://localhost:8251 (Windows) or <server-ip>:8251 (Windows + Linux).

In the left navigation bar, click on Clustered Caches based on the cache which has the client caches. Against the cache name, click on View Details.
This opens up the detailed configuration page for the cache.

In the Client Nodes tab, select the client node IP for which the client cache is to be enabled. Click on "..." against the client node IP and select Enable Client Cache.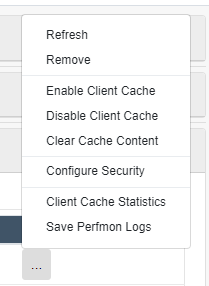 The Client Cache Status will change from disabled to enabled, and a success notification will be received.
See Also
Create Client Cache
Disable Client Cache on Client Nodes
Remove Client Cache
Management Operations