How to Configure Alerts with NCache
NCache Alerts can be configured such that you receive email notifications when one or all of the below mentioned events take place:
Cache Start: When the cache cluster is started an email will be generated.
Cache Stop: When the cache cluster is stopped an email will be generated.
Cache Size: When the cache size reaches 80% of the Cache Max Size an email will be generated.
Node Joined: When a new node is added to the cluster or the cache is started on an already existing node an email will be generated.
Node Left: When one of the nodes becomes unresponsive and is no longer a part of the cache cluster an email will be generated.
State Transfer: State transfer happens when an existing node leaves the cache cluster or a new node joins in, the data is redistributed among all the existing cluster nodes.
Alerts can only be configured while the cache cluster is not running (stopped).
Follow the steps given below to enable Alerts in NCache:
Step 1
Open the NCache Manager and find the cache cluster you are looking for in NCache Explorer on the left side of the screen.
Step 2
On the right hand side a TabControl Panel will appear displaying configuration options for the selected cache cluster.
Step 3
Click on the Alerts tab. Check the Enable check-box. You will need to specify the Sender Email, the company SMTP Server and the required credentials needed to enable the service.
Step 4
Specify the recipients that will receive the notifications and in the end you will need to specify the Events that will trigger the notifications.
Save these settings by right-clicking on the same cache cluster in the left pane and then click on Apply Configurations.
Verify Alerts Feature
You can verify that NCache Manager has enabled encryption with the selected cache as follows:
Step 1
Open the configuration files that are located in NCache installation folder, for example, C:/Program Files/NCache/config. This folder contains all configuration files for NCache in the form of .ncconf files.
Step 2
Open the config.ncconf file in any text editor. Within the <cache-settings> tag you will see the <alerts> tag. Within this tag there should be all the information that you have just added using the NCache Manager. You can confirm that the correct information is saved and the email-notification="True" flag validates that the alerts have now been configured.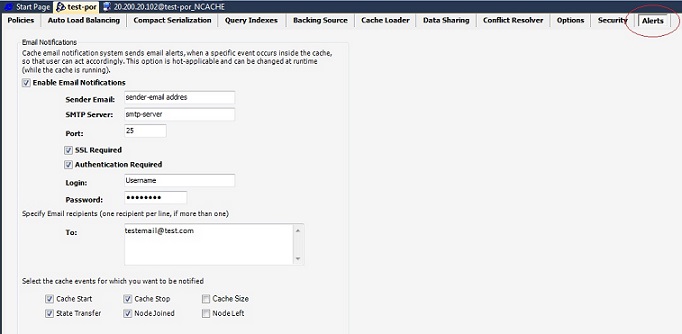 What to Do Next?