How to Deactivate NCache License
Activated machines using the NCache license can be deactivated. By doing so, you can free up existing licenses, which can then be used to activate other machines.

Here are the steps that you need to go through to deactivate an NCache license.
Step 1
The first thing that you will need is a deactivation code. To receive a deactivation code you can send an email to support@alachisoft.com. This email should contain the existing license that you are using. Each license key needs a deactivation code which can be used to deactivate all the machines that have been activated using this key. The deactivation code will be sent by the Alachisoft Support team.
Step 2
Open the Activate NCache Tool, which is available at the following path:
Start -> All Programs -> NCache -> Activate NCache -> Activate NCache License
This will open the Activation Wizard. This tool needs to be run with Administrator Privileges.
Step 3
Select the option Deactivate NCache License and press Next.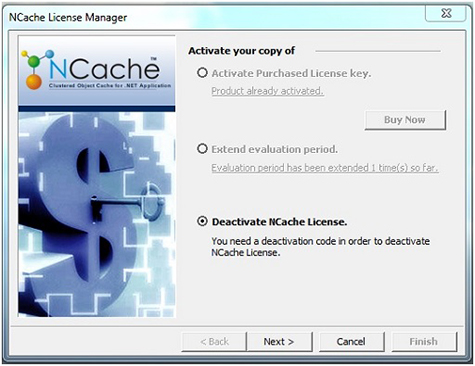 Step 4
Enter the Deactivation Code that you have received via email and click Next.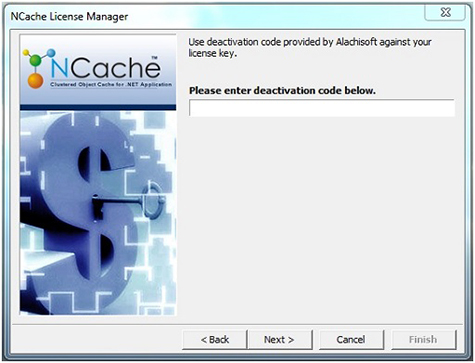 Step 5
Select Online (if this machine has access to Internet) and click Next.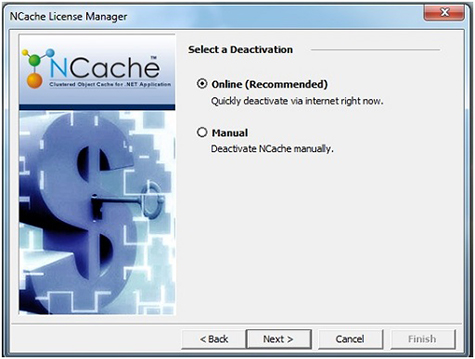 Step 6
The last step, click on Deactivate Now. Once the deactivation is complete, click Finish.
Step 7
Please click here to make sure that the machine has been deactivated successfully. You need to enter the license in order to view the history of activations for that key. The number of activated CPU/Nodes should be less than before.
What to Do Next?