How to Enable NCache Auto Load Balancing Feature
The Auto Load Balancing feature of NCache distributes data symmetrically over the present nodes. This feature balances data on the basis of the amount of cached data size that each node has consumed, but not on the number of records present in each cache items. So cache data is spread uniformly across all nodes of a cache cluster.
How to Configure Auto Load Balancing with NCache
Follow the steps given below to enable Auto Load Balancing feature in NCache:
Step 1
Open NCache Manager and left click on the specific cache cluster. This will open the settings of that cache cluster.
Step 2
Open the Auto Load Balancing tab from the setting and check the Enable Auto Load Balancing check box.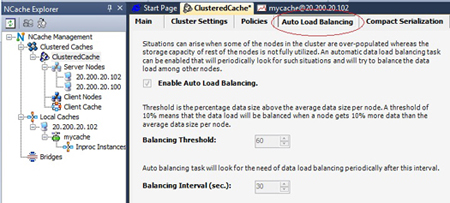 Step 3
Set the Balancing Threshold. This threshold specifies what percentage of data size above the average cache size is acceptable for a single node on the cache cluster.
Step 4
Set the Balancing Interval (sec.). This interval specifies the time interval for balancing data among the nodes.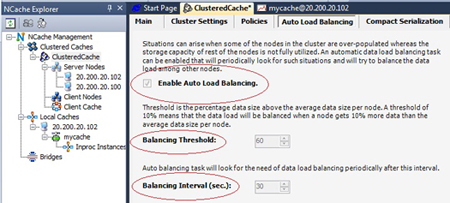 Step 5
Right-click on the cache cluster (from the left pane cache tree structure) and select Apply Configurations in order to complete the process.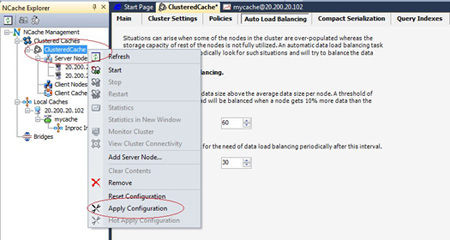 What to Do Next?